6月はおうち時間にぴったりなおすすめの映画をご紹介致します。
Enjoy our recommendations of movies while staying at home.
1: Vertigo : Alfred Hitchcock めまい:ヒッチコック (1958)
One of Alfred Hitchock's masterpiece. Detective Scottie who suffers from acrophobia is hired to investigate the strange activities of an old friend's wife. She commits suicide while Scottie becomes dangerously obsessed with her. The cinematography with fascinating angles and soundtrack are outstanding.
ヒッチコック監督の人気の名作。過去のトラウマから高所恐怖症になってしまった元刑事スコッティ―が、ある人妻の身辺調査を続けるうちに彼女の奇異な行動に翻弄されていくさまを描き出す。心理的な描写とカメラアングルや色使いが絶妙なサスペンス作品。
2: Gattaca : Andrew Niccol ガタカ:アンドリュー・ニコル (1997)
Award winning Sci-fi fiction film featured Frank Lloyd Ride's architecture work, "Marin County Civic Center " in United State as a mothership called, "Gattaca". A genetically inferior man who always aspired to travel in space, assumes the identity of a paraplegic in order to accomplish his goal.
DNAを操作して生まれた優秀な遺伝子を持つ者たち(適合者)があたり前に存在する世界。そこには遺伝子操作をしていない不適合者への差別が生まれていた。不適合者の主人公は適合者のふりをして自身の夢である宇宙飛行士を目指す。CGに頼らないフランク・ロイド・ライト建築「マリン郡庁舎」が舞台のSF映画。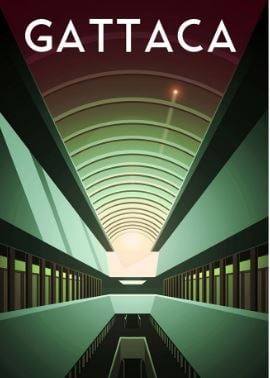 3 : MIRAI:Mamoru Hosoda 未来のミライ:細田守 (2018)
Japanese Anime film. A young boy, Kun feels neglected by his family by his little sister Mirai's presence. Run away from home by his vulnerability, Kun stumbles across a time-travelling magical garden that he encounters his mother as a little girl and has various adventures with his baby sister, who is all grown up, opening a new perspective on his world. Enjoyable landscape and architectural housing of Yokohama suburbia.
細田守の長編アニメ映画。主人公のくんちゃんの新生児の妹、未来への嫉妬から家出を試みる。その先にタイムトラベルの道に繋がる秘密の庭園をみつける。様々なタイムトラベルを通じ、幼いころの母親や成長した妹のミライと関わることで兄として新しい自分を発見していく。舞台となる横浜市内の建築家の住居デザインやランドスケープも楽しめます。
4 : Blade Runner:Lidrey Scott ブレード・ランナー:リドリー・スコット (1982)
1982 science fiction film directed by Ridley Scott, and written by Hampton Fancher and David Peoples. Rick Deckard, an ex-policeman, becomes a special agent with a mission to exterminate a group of violent androids. As he starts getting deeper into his mission, he questions his own identity. Known as featured in some popular architecture buildings in LA as filming locations. Outstanding soundtrack too.
リドリー・スコットのSci-Fi名作(原作あり)。近未来のLAを舞台に宇宙開拓の前線で過酷な奴隷労働や戦闘に従事、脱走し人間社会に紛れ込もうとするレプリカントを判別し見つけ出した上で「解任(射殺)」する任務狩りとして生活していく元警官のリックが、自身のアイデンティティと人間としての本来のミッション等を深く掘り下げていく。LAに実在する著名な建築をロケ地として撮影されていることでも人気の作品。
5: The Conversation : Francis Ford Coppola. カンバセーション~盗聴~:フランシス・フォード・コッポラ (1974)
The Conversation is a 1974 American mystery thriller film. Surveillance expert Harry Caul is hired by a mysterious client's brusque aide to tail a young couple, Mark and Ann. Tracking the pair through San Francisco's Union Square, Caul and his associate Stan manage to record a cryptic conversation between them. Tormented by memories of a previous case that ended badly, Caul becomes obsessed with the resulting tape, trying to determine if the couple are in danger. A film features cine sonic mind experience ( how sound/noise impacts a human's mind ).
1974年作アメリカのサスペンス映画。探偵のハリーがある若いカップルの尾行案件として盗聴を請け負うことからはじまる音が心理的に与える歪んだ妄想、結果に拘る執着等探偵が徐々に自らを追い込む姿を音を通じて描く内容。ノイズ、音がいかに心理的にもマインドにも影響するか(シネ・ソニック・マインド)を提示する貴重な作品。
6: Like Father, Like Son : Hirokazu Kore-eda そして父になる:是枝裕和 (2013)
Written, directed and edited by a well-known Japanese director, Hirokazu Kore-eda, Like Father, Like Son is a modern family film released in 2013. The film posits two families from different social backgrounds, one family a more rural/traditional and the other more urban/modern, when one family finds out that the son was switched with another child at birth. Through the interaction of the two families, the film explores the concept of family and shows the dilemma caused by the affinity of blood lineage and the bonds built through time spent together.
2013年公開の是枝裕和監督作品は、現代の家族像を模索する話題作。福山雅治が初の父親役を演じたことや、リリーフランキーの自然体の演技でも注目された。タイトル通りに父親とは何かを問いながらも親子や夫婦関係など「家族」とは何かを考えさせる作品。家で過ごす時間が長い今、観てみるのはいかがでしょうか。
おうち時間を充実させてCOVID-19感染の第二波を防ぎましょう!あと少し!一緒に頑張りましょう。
Let's enjoy staying at home and prevent the second wave of COVID-19 from coming to Japan.
Space Design Inc.