Workstyle
To be a Bridge between Global Customers and Space Design
I am the leader of the overseas sales team that conducts new sales activities targeting global corporations and overseas customers.
We propose various stay plans tailored to the purpose of the business customers such as international events, projects and sightseeing.
─ What do you value as an overseas sales team leader?
For the Customer Experiences of Space Design's Hospitality
The Olympic Games will be held in Tokyo in 2020, and it is expected that Japan will be even more crowded with visitors from abroad. This growing inbound demand is a real business opportunity for general hotels and facilities, but we are not blindly aiming for as many contracts as possible.
If there are doubts whether our services will satisfy our customers' needs, we take the time to repeatedly exchange emails and calls with the customers in timely manners, carefully explaining Japanese customs and living standards, and sometimes also ask the guests for a compromise aligning expectations, leading to better hospitality.
At the same time, it is can be of importance to understand the customers' corporate culture, the backgrounds of visiting Japan, and the cultural customs and share these internally. We strive to provide rooms and value-added services to suit our guests' needs. And 60-70% of customers of Space Design serviced apartments are visiting from outside Japan, and we have experienced staff available to assist them during their stays.
On the other hand, in order to provide hospitality that affects customer satisfaction in various business cases, such as long-term occupancy of large groups it is also essential to work closely with many internal staff while sharing information.
For those who come to Japan for international events and projects, we will be able to give them support to reach their intended business results.
For the sightseeners, they should be memorable and comfortable experiences in Japan.
We propose stay plan and services that understand the needs and background of each customer, and respond to inquiries, requests, billing and settlements etc. working flexibly together with the property management team.
The goal is to make all guests happy who have used Space Design hotels and serviced apartments.
The theme of our overseas sales team is to propose a stay that satisfies our customers' needs and to follow up on changes in their business/project schedules.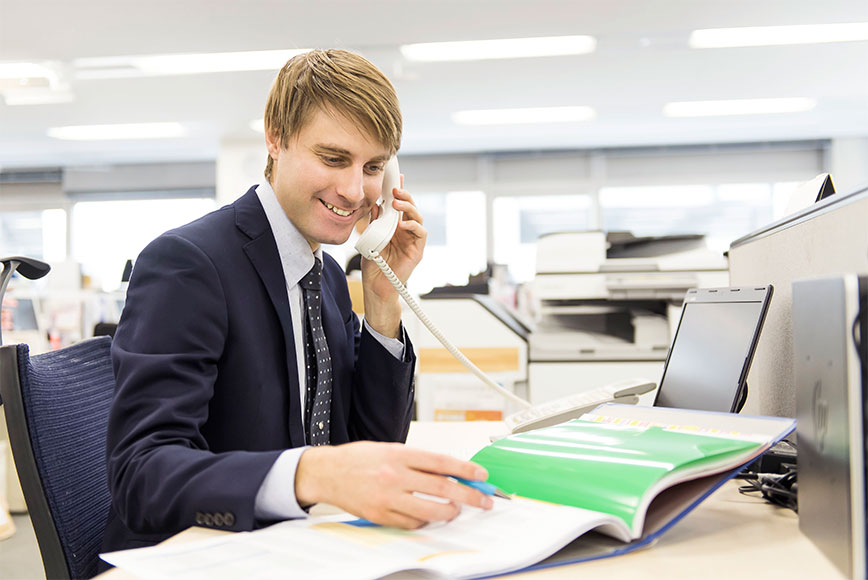 ─ Are you doing anything to increase team coordination?
Multiple Languages as the Tools to Deepen Mutual Understanding
We communicate in multiple languages within our team and mainly use English and Japanese. There are no set rules on when to use which language and we switch freely between the two depending on the situation. The consciousness of valuing communication is deeply rooted in each member, and the attitude of understanding each other better may be creating a situation that does not stick to language.
I want to inform quickly and politely. Even when exchanging the same information, the feelings put behind the words may differ. By choosing the appropriate language according to the situation while sharing your thoughts and feelings, will lead to a more open communication! Yet everyone is aiming towards the same goals.
─ Please tell about when you took childcare leave?
Blessed Time Watching My Child Grow while Experiencing Hardships of Being a Parent
My first child was born last year and I took three months of childcare leave.
In my home country, Sweden, it is normal for the father to take paternal leave and participate in childcare, so I fully intended to do the same even if I worked in Japan.
During my leave, I returned home with my family for a month and was able to give my parents time with their grandchild.
By staying by my daughter's side all day, I was able to realize her growth and understand the difficulties of raising children, and I think that my wife's burden was somewhat reduced.
Above all, I was happy to have a precious time with my child's growth process.
Many members actively encouraged and backed me up to take parental leave. Since we had enough time to prepare for handing over my tasks, I was able to concentrate on childcare with peace of mind and return smoothly, and now I am ready to support other persons who wish to take childcare leave.
As a team leader and father, I want to continue to do what I can and to have a fulfilling day.
An environment where to freely use both English and Japanese and to choose the most appropriate language at that time.
An open communication leads to a better understanding within the team and enables everyone to reach the same goal.
Serviced Apartment Division SA Sales Team Deputy Team Manager R