Space Design Inc. (Head Office: Minato-ku, Tokyo. Atsushi Kawashima (President)) is proudly announce that new hostel style accommodation, "BUNKA HOSTEL TOKYO" will be opened on 14th December 2015. It is targeting to mainly so called, "flash packers" and re-birthing 30 years old architecture in the heart of down town Asakusa in new accommodation complex style which aiming today's "real" social venue with refined Japanese style. It is also joint venture with UDS Ltd. (Head Office: Shibuya-Ku, Tokyo. Keibun Nakagawa (President))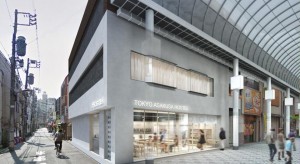 "BUNKA HOSTEL TOKYO" is presenting interface of alternative warm nature with refined yet comfort Japanese hospitality style.
As for creative direction, Ms. Hiroko Takahashi, worldwide contemporary artist renowned for interact with authentic Japanese crafts, has contributing major part of this project: worked through with her, BUNKA HOSTEL TOKYO is successfully maximizing the potent of an authentic location to present guests for most functional environment.
Press Release and the outline: HERE (Japanese Language Only)
<For Press Inquiries>
Space Design Inc.
Contact: Sugawara (Mr.)
MAIL: adsd@space-d.co.jp
TEL:03-3502-7000 FAX:03-3502-3000